I hope all you Mommies had a good Mother's Day! Mine was very low key. We stayed home, and well did nothing. Ha. I tried to rest more than I usually would, which is a chore because I often repeat, "I'll rest when I'm dead".
There was no breakfast made in my honor. I got up and made my own. I guess this means the hubs needs to get with it and learn how to make my pancakes for me. If he makes breakfast, it's breakfast burritos – which aren't appealing to me. So I got up and made myself Carrot Cake Pancakes with Protein Cream Cheese Frosting.

Sorry for the subpar images, from the phone with not so great light. Recipe at end of post.
I did take a few minutes to sit and enjoy a cup of coffee and eat a Quest Bar as a snack during the day. I made sure I wasn't working while taking these few minutes as well. I'm always multitasking.
For dinner on Sundays a lot of times we have homemade pizza. Since I've been testing a gluten free diet the past month or so, my family has gone without it. Oh, the thought of watching my family eat it without me was sad to say the least. What can I say, my husband makes good pizza. I decided that wasn't very fair, and my husband and I teamed up to create myself my own little cauliflower crust pizza. I went off of a few recipes online, but I think I could concoct my own and make it a little better next time. It was good – but it could've been better.
Carrot Cake Pancakes with Cream Cheese Protein Frosting
Ingredients
Dry

1/4 Cup Oat Flour
1 Tbsp. Coconut Flour
1/2 Tea. Baking Powder

Wet

3 Egg Whites
1/2 C finely shredded carrot
3 Tbsp. Greek Yogurt
1 Tbsp. Milk or Water
1/2 Tea. Cinnamon
1/8 Tea. All Spice

Optional

1 Tbsp. Raisins
1 Tbsp. Chopped Walnuts
Dash stevia, and vanilla extract
Instructions
Mix your dry ingredients together in a bowl, then add your wet (you don't have to mix them separately). Mix well and cook em up!

Protein Cream Cheese Frosting

I nuke about a Tbsp. of cream cheese with a couple Tbsps of almond milk. You just want the cream cheese to soften. After you pull it out of the microwave, add in some greek yogurt, sweetener of choice (or even protein powder) to make your "frosting".
A lot of times I make the frosting first as my griddle is heating and put it in the fridge to chill while I cook my pancakes. This way it solidifies a little more and becomes creamier and less watery.
Notes
I like raisins and walnuts in my pancakes, but you can leave these out if you would like. The batter tends to get a little tricky to spread if you add the raisins and walnuts into the batter - so I like to leave them out, then sprinkle the tops of the pancakes on the griddle with them as they are cooking.
http://www.fridaylovesong.net/2013/05/what-i-ate-wednesday-for-mothers-day/
How did you celebrate Mother's Day? Did you have any good food?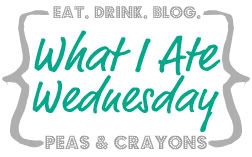 Hey everyone! I wanted to give you guys a little more information about the Under Armour – What's Beautiful contest 3.0 – as well as what my personal goal(s) will be during this journey.
[ Read More ]
This post is pretty well timed because lately I've had quite a few friends + family ask me about Quest Bars. Here's some thoughts on the different flavors and nutritional aspects of these gems.
Ok. I'm a fan of Quest Bars. I have tried tons of different protein bars in my time, and while some have actually been tasty – there's absolutley nothing on the market that compares to the taste and the non-junky ingredients that Quest packs into theirs.
[ Read More ]
My knee still hurts. Insert sad face. And wait for it ….. the other knee is starting to feel off too. UGH. Not straight up pain yet, but I can feel the same sensation creeping up in this knee. It's a feeling I'm recalling all too well and it's making me rather unhappy. I guess
[ Read More ]