What I Ate Wednesday #9: Peanut Butter Fluff
Haven't done one of these in forever, since my site was dead and all. I got a little out of the habit of snapping photos of my food, so since I'm picking it up again I need to make mental notes again to take pictures before I scarf down what I'm eating.
For breakfast I had some banana and peanut butter fluff oats. I like my oatmeal really creamy and smooth. This was my first go at a new way of preparing them and they were oh so awesome. I might have licked my bowl.
Lunch was nothing overly exciting. I premade a big batch of lentils, quinoa, and limas together. The lentils were undercooked a little but still edible. This is actually a good combo of beans and quinoa that I really like, but they were a little bland. Next time I need to bother to throw something on top or add some more seasoning.
Banana & Peanut Butter Fluff Oatmeal Pudding
Ingredients
1/2 cup Old fashioned oats
1 cup water
1/2 cup Almond Milk
1/2 banana
1 Tbsp. Peanut Butter
sweetener of choice
dash of salt
Banana Extract (optional)
2 tea. Chia Seeds (omit if you wish, but reduce liquid)

Peanut Butter Fluff

Peanut butter fluff is something I do just get more volume and a super creamy topping that can be used on anything! It's simply 1 Tbsp. Peanut Butter to 1 Tbsp. Almond milk. Microwave for about 30 seconds and whip together until creamy. Makes a great topping for oatmeal, pancakes, ice cream, spread on a sandwich, whatever!
Instructions
Place oats, water, and salt into a large microwave safe dish. Microwave for 2-3 mins until oats expand. Be careful and watch them, oats have a way of escaping their containers when nuked.
Separate half of the oats. Half into a small pot, the other half with 1/2 cup of milk into a small blender and blend until smooth. You can also choose to blend the entire serving with all the milk for a super smooth pudding type oatmeal.
Place blended oats into pot, add extra milk you may want to add (personal preference here), as well as chia seeds and banana extract.
Cook until bubbly and desired consistency is reached.
Cut up 1/2 banana and plop on top with peanut butter fluff.
http://www.fridaylovesong.net/2012/11/what-i-ate-wednesday-9/
For dinner we had some tomato soup with grilled cheese (my grilled cheese didn't make it into the photo, which tells me I ate mine first – oops). Topped mine with some avocado. I plan my meals in advance and once a week is soup night. My husband hates that, he's not a fan of soup. Although I'll give it to the man, he's been a lot better about it lately. I think he's adjusting to the fact that it's going to happen whether he likes it or not
I will say though, this soup is one of his favorites. I'll have to do a full recipe on it in the future.
A few weeks ago my son did ask me, "Momma why do you take pictures of your food?". It seemed rather odd to say "because I blather about it on my blog". He looked lost.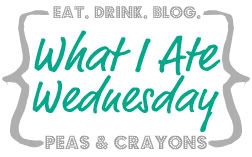 Also check out: