What I Ate Wednesday #13: Sweet Potato Pancakes
Hello WIAW'ers! Just in case you thought I died from overexposure to cookies I actually didn't. I've been so busy that this is kinda more of a "what I've been eating lately" – so WIBEL?
Recently for breakfast I tested out some red velvet pancakes. So yummy! They were fantastic and I'm sure I'll be making them again. My husband laughed at me because after my pancakes were a success, of course my brain moved on to think about doing red velvet oats.
Some other random meals were rotisserie chicken breasts with mixed veggies, and my favorite rice mix. I made lasagna one night for the family. And also according to my stash of photos on my phone – a meal I consumed recently also consisted of an egg white omelette with spinach and a mess of roasted vegetables (butternut squash, zucchini, and eggplant.)
Firstly, I've been eating the heck out of some Kabocha squash. I've found an Asian market in my vicinity with a good produce selection that carries them. My favs are acorn and kabocha obviously – and I'm wondering what the owners are starting to think of the odd white lady who comes in and hoards their squashes. My favorite way to eat it has been a nighttime snack since it's a sweet squash. I like mine with a little peanut butter, uh I kinda like everything with a little nut butter though.
I've been snacking on some fabulous sweet potato pancakes (usually pre workout) I whipped up one day. So good (recipe at the end of this post when I'm done blathering). When I'm on the go I always bring snacks with me, so I'm not eating junk. I enjoyed a banana in my car – onlookers may have been wondering why I was photographing myself eating a banana in my car. I eat avocados constantly. This one was a snack – half an avocado smooshed on a piece of toast with some pepper. And lastly there's some of that squash on top of my overnight oats in a leftover peanut butter jar. That was a good breakfast.
Sweet Potato Coconut Flour Pancakes
Ingredients
1/2 small-medium sweet potato precooked with skin removed - aim for somewhere around 1/2 cup mashed.
1 Tbsp. coconut Flour
6 Tbsp. egg whites
1/2 Tea. baking powder
dash of vanilla extract, cinnamon, and sweetener of choice.
Instructions
Combine ingredients and cook on medium. This makes 3 smaller sized pancakes.
Notes
You could try to replace the coconut flour with ground flax meal, or oat flour, but you may want to reduce the amount of egg white. Aim for smaller pancakes since coconut flour is finicky and tends to fall apart if you try to make them too large.
http://www.fridaylovesong.net/2013/01/what-i-ate-wednesday-13-sweet-potato-pancakes/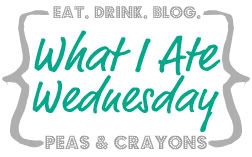 Also check out: