What I Ate Wednesday: Food
Either the lamest, or most genius What I Ate Wednesday post name ever. I've been so busy but I really wanted to do a WIAW post, so here's a run down of some stuff I've been eating lately. I mean no biggie though right? We all know where just here to oggle each other's food pics anynway
One of my favorite bowls of oatmeal ever is PB+J oats. Besides loads of PB on the top of these, I also stirred peanut flour into mine. Best idea of the week I think.
The most random lunch of the week for sure. I ended up rolling my veggies up into my turkey and noshing on it that way. See random lunches can still be good for you!
Some good yogurt random cereal mess that I normally eat at night. Of course you have to eat it out of the container! Also some banana + sunflower butter snackage with my little mini me. She was being a cheerleader right before snack time. A sparkly one as you can see in the background.
And I just have to share my pancakes from yesterday morning because this blueberry cream syrup was awesome. Even not so mad that I got it all over my couch. Doh. That's what I get for eating in the living room I guess! Nom. And funny enough, although my photo almost looks radioactive purple I promise you, tis blueberries.
Blueberry Cream Protein Sauce
Ingredients
1/4 c. frozen blueberries
2-3 Tbsp. plain greek yogurt
sweeter of choice
chia seeds if you wish
Instructions
While you're making your pancakes, nuke the blueberries in the microwave about 2:30 minutes. You want them "melty" for lack of a better term. Add chia if you're using it.
Place this in the freezer to chill while you cook your pancakes. Then stir in your yogurt and sweetener. Pour over your pancakes - not your couch ;)
Also, you can use maple syrup as your sweetener and that rocks as well.
http://www.fridaylovesong.net/2013/08/what-i-ate-wednesday-food/
Do you ever eat sitting on the couch or desk? Or are you a strictly table person?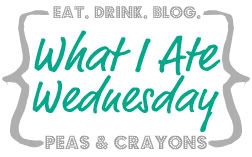 Also check out: