quick and easy healthy version on this holiday season favorite. [ Read More » ]
Category Archives:
Cooking & Food
I can easily eat breakfast for every meal of the day. Even if these particular eats weren't ingested on the same day, I'm neither confirming or denying that breakfastallday has or has not happened.
Some breakfasty oatmeal with "melted" blueberries and pecans. One of natures perfect oatmeal topping combos. And FYI, "melted" blueberries are simply frozen bluebs that I nuke for a min or two and make a lovely syrupy kinda consistency on their own.
This morning I had some breakfasty protein mug cakes – even if they do resemble biscuits and gravy with sprinkles I assure you they're not. These were made from my confetti cake protein pancakes. Someone said this was a genius idea today, honestly for me, it was just called being lazy. I didn't feel like pulling out my griddle so they became mugcakes.
Make sure you take advantage of my sweet cellucor.com discount code. Use code FLS20 and receive 25% off your entire order and free shipping when you login!
A savory breakfasty item I had was something I prepared over the weekend to keep for fast eats. A egg white breakfast bake with: kale, yellow peppers and onions. These heat up rather nicely actually so they are something that I enjoy prepping ahead to have some breakfast meals on hand.
And yes, I hear deem breakfasty a word.
What are your favorite breakfasty items?
What was the best thing you ate this week?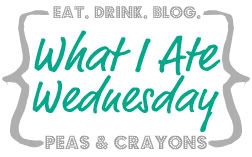 It's been an extremely long time since I've partaken in a What I ate Wednesday post. This probably has a lot to do with that thing called summer. When I have a little more alone time that means I get some more time to take random photos of food I'm ingesting – instead of hearing "MOOOOOOOOOOOOOOOOOOOOOOOMMM", or "he got more than me!". Yay school!
That means I get a little more peace and quiet to eat my breakfast. It's funny because I've found myself eating breakfast now after my kids are out the door. Maybe perhaps because I can sit down and enjoy it a little more once I know everyone is settled and on their way. This particular morning I had oatmeal with bluebs, pecans, hemp hearts, and a smidgen of sugar free blueberry syrup.
These are my favorite hemp hearts by Manitoboa Harvest. People tend to ask me what they are when they see them on my oats. They are yummy tidbits that are full of good for you omegas.
Sometime during the last week I had a load of carrots in the fridge that needed to be eaten, so I roasted them up in my favorite fashion. My son whom really isn't a carrot fan said these were good and that they "tasted like candy". This is pretty much the way I like to roast a lot of root vegetables actually. So although there not so much a recipe, here's the how-to.
Oven Roasted Carrots with Thyme
Ingredients
Carrots
Salt
Pepper
Extra Virgin Olive Oil (or oil of choice)
Dried Thyme
Instructions
Preheat oven to 420
Wash, peel, and chop carrots into coin sized bits (however many you wish)
Throw carrots on a baking sheet
Dose with a couple shakes of oil
Salt, pepper, and thyme to liking - toss with carrots (I use my hands)
Roast in oven for about 20 mins. (not your hands, the carrots)
Pull them out give them a toss with a spatula and place back in oven for a few more mins until they are done and roasted to your liking.
http://www.fridaylovesong.net/favorite-roasted-carrots/
And other than the carrots that tasted like candy last week – there was some actual candy going down. In the way of some froyo I had been craving. I had some pralines and banana froyo (mixed) with reeses pieces, heath bar pieces, cookie dough bits, and some sprinkles. I like the candy toppings obviously.
Do you like roasted vegetables?
What'd you eat that was yummy in the last week?
What's your favorite froyo topping?
Everyone loves a good no bake recipe.  Why is that? Maybe I ask because I enjoy baking.  But I guess I can also appreciate a good no bake recipe every once in awhile.
Let me get your attention right away. These are Chocolate protein no bake bar. A little chocolate always makes everything a better.
They also have goji's and blueberries in them (hence the antioxidant part). You could use any dried berries you wish, but that's what I went with.
Dark Chocolate Antioxidant No Bake Protein Bars
Ingredients
Instructions
In a small bowl soak your dried fruit until it has plumped a little. Squeeze excess water from fruit and place into a medium sized bowl.
Combine all your other ingredients and mix well.
That's it. For reals.
Store them in the fridge.
http://www.fridaylovesong.net/dark-chocolate-antioxidant-bake-protein-bars/
You'll notice that my berries look a little smooshy (highly technical term) in the photos. And that's because I did soak them for a little. You don't have to do this, but a lot of times gojis are a weee on the hard/very chewy side. You might also need to barely adjust the moisture otherwise (add more applesauce and or peanut butter) if you don't soak your fruit.
This is mold I use when I make a lot of my protein bars. It's a silicone mold with 9 spaces. It's called a "loaf pan" but it's certainly not loaf size at all. So don't be fooled by the amazon description
.
What's your favorite no bake recipe?
Do you make your own protein/energy type bars?
If you are one of my friends on FB, you may have seen this complaint from me the other day about early mornings:
I am an early riser most days because I'm a busy gal. Well what happens when your Dad is kind enough to keep your kids overnight? You may forgo the early rising thing every great once in awhile (I'll admit, it was nice). But that didn't mean I had any less work to get done the next morning, so sometimes a quick breakfast is equally as nice.
And let me tell you, I'm a firm believer in breakfast. I can't imagine skipping it, it's my favorite meal of the day (hello Brinner!), but sometimes schedules aren't so cooperative. When this opportunity arose, I thought it would be cool to give my busy friends a good quick a yummy breakfast suggestion.
This was my first time trying the crunchy belVita biscuits. I picked up the golden oat flavor, although my friends have mentioned the blueberry are really tasty, so I'll have to try those next too (They are also available in: cinnamon brown sugar, chocolate, and apple cinnamon). I like the crunch of these, and that they weren't overly sweet. As they were sitting on my desk this morning next to my coffee – I couldn't help but dunk those suckers in there a few times. Good choice I might add.
19 grams of delicious whole-grain, 3 grams of fiber, and B vitamins. Nutritious sustained energy to fuel you all morning long.
And while the belVita (cookies – let's call em what they are), were a new to me product, Oikos Greek Yogurt certainly isn't! If I buy a flavored greek yogurt, this is the one I personally prefer. I made the switch to only purchasing greek yogurt a few years ago when I realized it contains twice as much protein compare to regular lowfat yogurt. I love the key lime flavor, and my new favorite has been:

Stamos. I mean pineappple. Clearly pineapple. Really though, great yogurt the flavor selection is good, and they are readily found at any grocery store.
While even I the overplanner, and notetaker, have one of those rushed and overslept days from time to time, Laura Stack (aka The Productivity Pro) reminds us of a few ways to get the most out of our mornings:
Do as much as you can the night before. Leave as little preparation as possible until the last minute.
Spend 20 minutes at the end of each day planning your to-do list. When you download the next day's activities beforehand, you can devote your morning to enjoyment rather than stress.
Be sure to start your morning with a delicious balanced breakfast. Together, the nutritious steady energy of belVita and 12 grams of protein in Dannon Oikos Greek nonfat yogurt will help you get more out of your mornings.
And, seriously just try to get this commercial out of your head. I dare you. It's been stuck in my head for days. That'd be a true #morningwin.
Have you jumped on the greek yogurt bandwagon?
What's your favorite yogurt brand? Have you tried either of these products?
Stamos just gets better looking with age doesn't he?!
Disclaimer: Although I was compensated for my time on this campaign, all thoughts, comments, and Stamos photoshopping remain my own.