Category Archives:
Cooking + Food
It was just another icy day recently (we have been having wayyy too many of those), when I hear a wrap on my door. I usually don't like unannounced visitors, but I'll never turn Mr. Brown Britches (aka the UPS man) away with a nice fit goodie surprise! This particular package was from Core Power, who were recently named "The Official Protein Drink of Sochi 2014 Olympic Winter Games!".

I admit that I am not one to usually buy premixed protein drinks, which is what Core Power is all about. Mostly because I'm usually at home when I'm drinking a shake, and because most of the time they are chalky and or have a weird aftertaste. Glad to say that this certainly isn't the case with the Core Power Proteins.
Core Power protein drinks contain natural whey and casein proteins found in milk – because well, they are made from milk! I appreciate the minimal ingredient list in these as I'm sure a lot of you will as well. I also liked that there is a light version!
I tried the chocolate (both the regular and the light), as well as the strawberry banana. Before I tried them I had pretty much decided that the chocolate would be my favorite – because I'm a chocolate fiend. But I'm really surprised that I actually preffered the Strawberry Banana. It surprised me because I'm not a fan of the combo for some reason. I adore them separately, but bring em both to the party and I'll pass. Core Power is available in: chocolate, strawberry banana, banana, and vanilla. The light options are available in: chocolate and strawberry banana.
Nutrition experts agree that milk is one of the best sources of protein, as good for elite athletes as it is for active lifestyles. Our products contain the natural whey and casein proteins from milk, never removed from their original liquid state.
Milk protein contributes to muscle development while the natural carbohydrates of honey provide the energy to rebuild muscle and glycogen stores. Consumption of carbs with protein after a workout optimizes muscle recovery and growth.
Made from fresh milk and real honey, one great-tasting, lactose-free serving of Core Power provides athletes and fitness enthusiasts with 26 grams of high quality fresh milk proteins, consisting of 21 grams of casein proteins and 5 grams of whey proteins. The light versions still pack a heck of a punch, serving up 20 grams of the same high quality fresh milk proteins.
The unique nutritional profile of Core Power uses the best proteins and delivers calories that your body can actually use.
Milk's unique ratio of whey and casein proteins builds lean muscle while its vitamins and minerals keep the body healthy.
Honey boosts athletic performance and endurance while reducing muscle fatigue.
Good stuff right?! But yes, it tastes good.
Other than the tasty protein they sent along, they also kindly sent me this awesome Fit Kit!  It contains a super camelbak water bottle, a ball (and pump!), a towel, a yoga mat, and a really amazing gym bag. The bag even has a place to stash your yoga mat in the top! And while you're waiting on your chia pudding to set up, go ahead and enter this sweet giveaway too!
So even though you don't get the workout from shaking your blender bottle because these proteins are already mixed for you – that ball, well that shit doesn't come inflated, so that my friends consider that a part of your workout
Are you a strawberry Banana Fan?
Do you watch the Witner Olympic Games?
Have you tried chia pudding yet?
PS: My Michelle Bridges Giveaway is still going on too, so don't miss out on that opportunity!!
I'm a WIAW WIBEL zombie. The end of September was the last time I've taken part in some WIAW action – and then I was sharing my pumpkin spice scones. Toady I'm sharing some brains, er um overnight chocolate oats.
And even though they weren't that pretty dark chocolaty looking because I didn't use my regular Hershey's Special Dark, they were still tasty. I layered a dark cherry chia jam I made and topped with some almonds. I honestly didn't realize just how much it looks like some braaaaaains until one of my friends on Facebook commented on it
And since I am a breakfast person, I often find myself eating breakfas-ty type stuff for lunch a lot. One of my favorite combinations I like to call my green egg scramble. It's a combination of spinach, green bell peppers, edamamae, green peas, and some diced onion (even better green onion if I have it) – topped with a little melted mozzarella. The combination may sound a little weird, but I love it. I love green food.
Most nights my snacks have been some variation of a protein yogurty bowl with toppings galore. Recently I had a super good idea to make a kinda "smores" bowl. It was topped with: some protein cake I made, a few pretzels smooshed up, mini marshmellows, and some chocolate sauce. Yum. I've also been enjoying the last few of my bourbon balls that I had made for Christmas. They were pretty amazing and I'm sure I'll be making that a yearly tradition from now on.
Other than brains, do you notice that I could probably exsist on breakfast food + snacks for the rest of my life and be totally satisfied?
PS: This totally reminded me that you can go back and download this zombie printable I made a long time ago. Because I love breakfast. And printables.
Do you have a favorite color food? What's the best thing you ate this last week?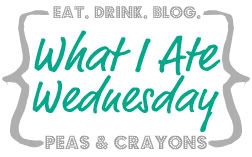 This week feels like it's been dragging like crazy. Part of that might be because my children were suppose to return to school on Monday from their winter break. That of course was thwarted by that mean polar vortex earlier this week. So in addition to their regularly scheduled winter break, they also got a bonus Monday and Tuesday tacked on for good measure.
Good God. I was happy to make it out of that one alive. The added days being locked in a house with children with no hope of escaping the house because of the bitter cold = one stressed Momma. But despite being locked in the house, I'm impressed and giggly about the way my younger two had decided to pass the time. They decided to exercise. My daughter was leading my son in some hybrid strength and yoga workout – at one point she was even correcting his breathing. Ha.
And then the next day while I was cleaning I found this gem:
How cute right? Making plans just like Momma, what can I say. My minime leaves the best little tidbits everyhwere – if you haven't noticed I like sharing her greatest hits with you. She also left he this one:
I mean come on, just about the cutest thing ever right? I can almost forget the fact that she called me Amanda for some reason. But seriously, having her write me something like this and watching my kids workout together just reinforces my life change over the last couple of years. If I ever have an off day, or am feeling down in the dumps, and or beating myself up … I need to refer back to stuff like this. It certainly reminds me why I decided to make a change.
Now randomly, let's talk about some chocolate. I teased you guys on instagram yesterday with this gluten free microwave chocolate lava cake. Oh boy.
I whipped that sucker up in no time for a snack and I was a happy camper.
Gluten Free Healthy Microwave Lava Cake
Ingredients
Dry

2 Tbsp. Unsweet Cocoa Powder
1 Heaping Tbsp. Coconut Flour
1/4 Tea. Baking Soda
Sweetener of choice to taste - I used 2 NuNaturals Stevia Packs

Wet

1/4 C. Unsweetened Almond Milk (or milk of your choice)
1/4 C. Liquid Egg Whites
1/2 Tea. Vanilla Extract

Optional

1 Tbsp Chocolate Chips
1/2 Tea. instant coffee granules
Instructions
Mix together your dry ingredients removing any lumps, add your wet and mix until well combined.
Pour batter into a oiled mug (or I used a small bowl). Microwave about 1:15 sec. I purposely left the middle of mine a little unset, it is a lava cake after all!
Flip your cake onto a plate or eat it out of the mug. Whatever your chocolate loving heart desires.
http://www.fridaylovesong.net/2014/01/workout-schedule-a-gluten-free-lava-cake/
You can choose to top it with chocolate sauce, but honestly it doesn't need it. You can make your own chocolate sauce by combining a Tbsp. of cocoa powder with Tbsp of water (maybe a smidge more). Or you can use some of this Walden Farms Sugar Free Chocolate Syrup. (not the healthiest option, but I use it occasionally when I'm being lazy ;))
Do you make mug and or microwave cakes? What's your favorite recipe? If you have kids did they miss school because of the weather this week too?
PS: You can get a lot of your goodies to make this and my other recipes at Vitacost.  If you've never shopped at Vitacost – do yourself a favor and go here first and sign up. You'll receive $10 off of $30 – and you can also extend this offer to your friends later!