Category Archives:
Fitness
I am a self proclaimed tech nerd. I love technology. Sometimes we love it even a little too much in this house – I spoke about this in my article on She Knows a few months back.
Moto X™
The first goodie I was sent was a Moto X smartphone. I'm an iPhone girl, so this was a whole new experience to me! I've never owned an Android smartphone, so it took some getting used to – platform wise. I'm not going to spend too much time talking about the phone because well, it's a smartphone, and that would take forever. You can read the specs here on the Verizon site.
Physically it's a nice size phone. Feels roughly the same weight as my iPhone 5 although the screen is a smidge bigger on this. I think this is a solid choice for anyone who is interested in what is considered a "midsize" Android smartphone at the moment. More importantly than the phone itself, is the cool things you can do with a smartphone – and the other cool gadgets you can use in tandem with them.
FitBit One
Most of you know that I use a Polar FT60 Women's Heart Rate Monitor
, which I swear by. Since I've been speaking a lot about cutting back on the amount of exercise I'm doing – I was excited to test this little guy out. I've heard a lot of good things about various models in the FitBit lineup.
In a nutshell the Fitbit One
tracks:
Calories burned
Steps you take
Stairs climbed
Distance traveled
And since it's an activity and sleep tracker, it also tracks: hours slept, and quantity of sleep. Now I can't comment on how this gadget performs with the sleep functions, because the particular one I was loaned as missing the sleep wrist band that's included in the package. Yours will include: The One™ tracker, silicone and metal clip, wireless sync dongle, charging cord, sleep wristband, and a free Fitbit.com membership.
You can sync this guy with a whole bunch of different devices (android and iPhone's) – and it's super easy to set up. Also for the techy nerds like myself, the Fitbit One can be linked to a ton of apps you may be using – likes like: Map My Run, My Fitness Pal, Lose It!, and more.
Differences between a FitBit and Polar
I figured I'd address the distinct difference between a Polar Heart Rate Monitor and the Fitbit One. A Polar is moreso a Training device that gives you specifics about where your heart rate falls within your aerobic and anaerobic thresholds; whereas FitBit is an activity tracker that counts steps, mileage, etc. Although yes, the FitBit does count calories expended as well.
I was actually curious as to how the FitBit counted calorie burn, and I found this tidbit of helpful information via the FAQ. Basically it uses your BMR calculated by your height, weight, etc that you input into your dashboard at setup. The more you use your FitBit, the more accurate the caloric burn in turn becomes because it stops guesstimating.
Because I was curious (ok and nerdy) there were a few times where I wore both my Polar FT60 and the FitBit at the same time to compare. I always burned more calories based on the FitBit because it isn't a heart rate monitor.
Overall
I really liked the FitBit One. I think if I were to own a FitBit model, this would be the one I would personally purchase.
Pros
Cons

Easy to use 
Small
Easy setup
Priced under $100
Compatible with Lots of Apps

Small (also a downside, because it could be misplaced!)
From what I've read – sleep monitoring is based on movement. So I'm not sure how accurate all that is.
I'll admit that I had a hard time remembering to stick it on first thing in the morning as I wasn't using the sleep functions. But when I did remember to put it on, I did enjoy using the device. I think it would be a great addition for someone trying to get
healthier
in general. For someone who is interested in
training
, I suggest perhaps looking into a different device.
Do you own a FitBit? How do you like it?
What kind of phone do you use?
Let me know if you have any questions!
Disclaimer: I was loaned these devices by Verizon Wireless. I was not paid for this review. All opinions are honest and my own
I took an online quiz earlier today talking about which side of your brain 'rules'. Right or Left. I was actually sort of surprised of my personal outcome.
Although I consider myself to be a creative type, my brain weighed equally. Of course, I blame that possibly on my slight tendency to be a little OCD. I say that somewhat jokingly because I'm not diagnosed or anything. I guess perhaps anal or uppity may be a better descriptive for myself. But that's actually not what I wanted to talk about at all.
I may have seemingly "been absent" as of late. If you haven't noticed – then just ignore that and carry on reading this… I've had a lot on my mind (both sides of it according to the above quiz results). I started talking about feeling worn down and generally hurt in January when I opened up about my personal rest + rejuvenate January.
But unfortunately January came and went, and I can't say I was feeling that much better, or more positive for that matter. This past week marks the most amount of time I've taken off of working out since my fitness journey began a few years ago. A lot has been weighing on my mind about where to go from here. Things like:
What do I want my workouts to look like from now on?
Do I have any current personal fitness goals I would like to achieve?
Can I achieve those without putting my body through the ringer like I have in the past?
Why is finding this balance SO DAMN HARD?!
But with that negative, I believe there also came a little positive. I've come to some realizations over the past few months. Some about myself, and about how I want to live my life.
I am healthier than I have ever been. Despite feeling down lately, I am still a better version of myself.
I've come to realize that I need to address my workouts in the same fashion I have come to address my eating. 80/20 (meaning 80% of what I eat is healthy, the other, not so much). Applying this to my workouts will be a great step for me I think. Not every workout has be a calorie blaster. I do not have to workout everyday.
I workout now not only because I want to be healthy – but I enjoy it. I will take more time to do workouts that I genuinely enjoy.
I liked this quote. And although some days I may feel defeated – I know for me it's just part of the process. I have never been really defeated along my journey. Because I would never let myself be. And this is just a new journey for me. A step along the way.
Also I'd normally insert the "what about you?" question here. But sometimes I don't feel like I need a question. I'm just sharing with you where I'm at, and what I've been up to. Hope you've been well.
Disclaimer: A portion of the following post is sponsored by FitFluential LLC on behalf of Koss
Two things you may or may not know about me:
I'm a graphic designer, so I love color. It's part of my job.
I also love some good workout clothes. AKA – Fit Gear.
I often joke that a selfie must be taken when I'm in "normal" (non-workout) clothes, because you probably don't see that many photos of me floating on via instagram.

Elemental Tree Short Sleeve top by YMX. I'm actually not that much of a purple person overall but I am loving radiant orchid. Especially this hue in a gorgeous YMX top. Their tops in particular are something very special.
Although I love super bright fit gear, my standard color is actually basic black. Can never have enough black capris! These Old Navy one's are cute with a slight pattern to them.
Koss Fit Clips
Around Christmas I got the chance to try out these headphones through a FitFluential campaign and they are great. They are small enough to be comfortable, are sweat resistant, and include 3 different size ear cushions.
Currently Koss is running a limited time special on their Fit Series at Walgreens. You can snag a pair of the purple, or other pretty colored ones available for $19.99. You can also go to the Walgreens site and see which store closest to you has them available. Mine are the coral color and I love them! You can read my initial review about them here.
Bubba 22 oz water tumbler
My everyday water bottle is a Bubba bottle. I seriously love it. Keeps things colder longer, they have bigger sizes, and they don't "sweat" so I don't get water marks all over my desk, or wherever heck else in my house I set my water down throughout the day.
Nike Womens Free Tr Fit 3 Running Shoes Atomic Purple
: Oh how I wish Nikes weren't made so narrow. They always have the most amazing colors and patterns, especially in their free shoe line.
Polar FT60 Heart Rate Monitor in Lilac
: One of the most common questions I get about my personal fit gear is, "What heart rate monitor do you use?". This one, I use this one. Well, technically mine is black, but this is the model I use. I highly recommend it!
Are you a purple person?
What's your favorite color?
Although this post contains a portion of sponsored material, all thoughts, reviews and opinions on product are my own and are in no way effect by this.
There are a few things I could blog about today. But, I'm actually thinking I will save them for another day. I was having a fat day today. You know one of those crappy days where you just feel yourself thinking….
I feel fat.
I would chalk these up to my fat girl demons, but I dare someone to say they don't have days when the feel like this. Say you don't and I'll call you a liar.
But I decided I wasn't going to dwell on it today, I had too much to do. OK OK, but I did do a google search for something funny to share with you
After all I try to be honest and share my his and lows here. And really, there had to be a funny meme or crappiply photoshopped picture that I was destined to add to my pinterest board right?
I didn't necessarily find what I was looking for, I was pleasantly surprised when I found this gem below. I was also really glad I could follow the image back to it's original source.
It's actually a few "pages" of a comic by C. Mucha, and goes like this:
Fat is not a feeling.
Though it has a lot of emotional friends: Anxiety, sadness, fear, disappointment, doubt, [ and] embarrassment.
We monitor feelings to gauge whether things are… good, ok, [or] bad.
Feeling fat makes us believe something always must change.
"Fat" makes us distrust our own feelings.
"Fat" is a sensation, of monitoring how much space you occupy, then judging it.
We equate judgment with virtue. As long as we are monitoring our bodies, we are being "good".
Truth: you will never feel better by believing the problem is that your body takes up too much space in this world. Never.
Your body isn't going anywhere. Your body deserves to take up space.
Your body is a solid mass. "Fat" is a gas. A thought that will take up as much space as you give it.
Hate is not a magic wand that shrinks your thighs.
Buy mental real estate in other things. Don't give empty lots of your brain over to noxious ideas.
Start by eliminating this phrase from your vocabulary: "I Feel Fat".
Because fat is not a feeling.
Pretty awesome sauce right?  I think the entire thing is awesome, but the part about the thighs made me smile. And so does this:
Suck it fat days! Oh did I mention today was a snow day (again!). Those can suck it too. But I'll post about that another day.
Fess up. When's the last time you had a "fat day".
What do you do to combat them, or other negative self thoughts?
SOS. I would go write it in the snow right now. Except it's too damn cold to go outside, and I don't have the proper um mechanics to be cool and write stuff in the snow. My kiddos were off school yesterday of course, holiday and all – but today, was an impromptu snow day! It's leaving me feeling a little stir crazy, and certainly putting me behind in any type of schedule I may have set for myself.
I spent my morning with a little Mojito snuggles, and some pumpkin protein pancakes. The topping was pumpkin cream with chia of course (duh). No, I don't have a particular recipe to share for these, I just kinda threw them together. But you can always check out my other gluten free pumpkin spice pancakes.
I'm still holding strong with my whole rest + recovery January. Aren't you proud of me? I'm not going to lie, it's been hard for me. Really hard for me some days. I didn't workout on Sunday, which was a huge deal for me. Funnily enough, exactly a year ago – I blogged about this same topic. About how I used to workout on Sunday. Twice. Every Sunday.
Today's workout was some light cardio, a few minutes of yoga and some evil rolling it out. Hate that thing! I'm telling myself it's a necessary evil – and I'm proud to say that I've been a lot better at it. I've actually had some txting conversations with my Bro and my Dad about it the last few days. We are all trying to be actively better about becoming more flexible and less hurty. All around a good thing.
Some Site News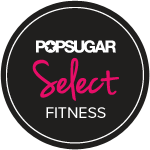 You may notice a new badge on the site. I'm happy to announce that I am a PopSugar Select Finess Blogger! That's cool right? I've always loved me some Fit Sugar, so I'm honored and glad to be part of an awesome group of ladies.
I was also very honored to be featured on Attune Foods #FitClean blog! Again among some really awesome people.
I've also got some recipes hopefully coming later this week, and don't forget to check out my awesome Michelle Bridges 12 Week Body Transformation giveaway!!
Since my Rest and Recovery January is kinda my resolution, how is your own going?
How about you, do you own any furbabies?
Do you foam roll?